Water Damage In Menifee CA Doesn't Have to come from a Flood
Water damage can come from numerous sources ranging from a plumbing leak to floods but always happens when it is least expected. Your home or business and all of your possessions can be damaged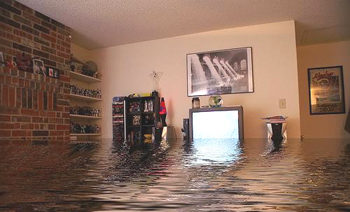 or demolished in a very short span of time. Fortunately, if you are on/in your property and become aware of a plumbing leak problem there is something you can do to prevent some water damage from becoming disastrous water damage.
Scenario: You come home from a nice evening out with the family, open the front door, step in and SPLASH – you find you are standing in an in an inch of water. You look across the room and water is standing an inch deep across the floor. Your first instinct is to turn on the lights. Of course you do NOT want to turn on the lights or anything electrical for that matter. Your next instinct is to find out where the water is coming from and that would be the wrong move as well.
The very first thing you should do in any scenario where you find your home or office with standing water on the floor or even wet carpets is SHUT OFF THE WATER TO THE BUILDING! By stopping the water at the source you could potentially save yourself thousands of dollars in additional water damage. Your next step is to call your Menifee Plumber, I.E. Plumbing Services, Inc.
Do You Know Where Your Water Shut off Valve is Located?
If a water pipe in your home or yard breaks, would you know how to shut off the water to avoid any or more flooding? Find out where your water meter and shut-off valve are located BEFORE there's an emergency.

In Menifee California the water and sewer system is owned and operated by the Eastern Municipal Water District. Though your water shut off valve may look different, most will appear as they do on this Eastern Municipal Water District explanation with images. The plumbing from the house side of your water meter on is the responsibility of the homeowner. If the shut off valve at your house is frozen or broken and you cannot get the valve shut off, you can use the valve at your meter, usually located near the street. If you need to see the instruction for shutting off the water at your water meter – CLICK HERE.
No matter what the water damage may be, I.E. Plumbing Services, Inc. of Menifee CA is here to help you to get through the water damage restoration in Menifee for your home or business in the least amount of time with least stress possible. Time is of the essence when it comes to water damage restoration. If treated quickly, you can minimize the damage, reduce restoration costs and prevent the growth of mold, and other contaminants that can have serious adverse health effects on you and your family.
Water damage that occurs as a result of flooding due to an act of god or just a gusher from a broken plumbing pipe can be extremely difficult to repair. At times, repairing water damage to your home may seem hopeless. But don't worry. Our experts are here to help whether you are a home owner, business owner or Property Manager with Water Damage Restoration needs in Menifee CA. We are Plumbing Contractor for Property Management in Menifee CA
It May Not be as Bad as it Looks
The extent of the water damage depends on many factors, including the force of the water when moving, the depth of the water and the length of time your home was flooded. In many cases, once the flood has receded, only minor repair work is needed, such as removing insulation and carpet padding that has become waterlogged. The primary focus in these cases is on drying the affected parts of the building, including flooring and wall cavities.
Water Damage May Not be Limited to a Building Interior
In the case of a Slab Leak in or under a building's concrete foundation can go undetected for months and undermine the foundation of a building but never effect the interior of the building. Restoring an undermined concrete foundation is also considered water damage restoration.
Then Again Looks can be Deceiving
In other cases though, flood damage is much more severe and requires reconstruction or remodeling. Flooring may need to be replaced down to the foundation, and specialized sanitizers must be applied to most surfaces to prevent the growth of mold, which is a serious risk in damp structures. When flooding has occurred, speed of cleanup is important. Call on a professional who has the experience,  tools and equipment necessary to make your home clean and safe again for you and your family.
Should you ever need Water Damage Restoration in Menifee California:
Call: (951) 375-9599 Now!
---
If you would like to read more or add a testimonial like the one below, CLICK HERE