What are Tankless Water Heaters?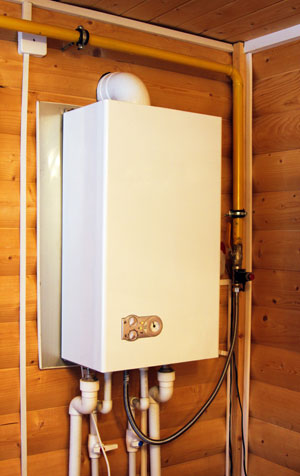 Tankless Water Heaters are  also called Instantaneous or On Demand Water Heaters, provide hot water only as it is needed. Traditional storage water heaters produce standby energy losses that cost you money. We do not leave our homes heated while vacationing. We only heat our homes when there is a demand for heat. In the same way, a Tankless Water Heater is used only when there is a demand for hot water.
Unlike conventional or even Insta-Hot Waters, Tankless Water Heaters heat water directly without the use of a storage tank. Therefore, they avoid the standby heat losses associated with storage tank type water heaters.
When a hot water tap is turned on, cold water travels through a pipe into the unit. In an electric Tankless Water Heater an electric element heats the water. In a gas-fired Tankless Water Heater a gas burner heats the water. As a result, Tankless Water Heaters deliver a constant supply of hot water. You don't need to wait for a storage tank to fill up with enough hot water.
Many Tankless Water Heaters have a life expectancy of more than 20 years. They also have easily replaceable parts that extend their life by many more years. In contrast, storage water heaters last 10 – 15 years.
 Our residential EverHot® tankless water heaters by Bradford White supply continuous hot water at a set temperature to the entire house.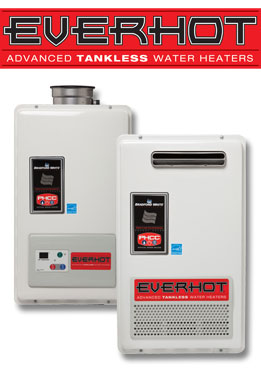 These units only operate when there's a call for hot water resulting in reduced energy consumption. These models also save space and are available for indoor or outdoor installation.
6 Models (Interior and Exterior)
15,000-199,000 Self Regulating BTU/hr. Inputs
Reduced Energy Consumption

0.82 Energy Factor Ratings
Energy Star Qualified
(Model numbers include: TG‑150I‑N & TG‑199E‑N)
Nine pass heat exchanger
Digital main controller with a temperature range of 96°F-120°F(140°F Maximum)
Commercial Conversion Capability with the use of a commercial controller
Direct Electronic ignition
Diagnostic capabilities
Lime accumulation sensor
Very low noise level
Space saving installation
Twelve year limited warranty on heat exchanger
Five year limited warranty on parts
Tankless Water Heater

can optimize its energy efficiency. Proper installation and maintenance of your
Periodic water heater maintenance can significantly extend your water heater's life and minimize loss of efficiency. Read your owner's manual for specific maintenance recommendations.
Proper installation depends on many factors. These factors include climate and local building code requirements. You should have a qualified, licensed plumbing and heating contractor install your Tankless Water Heater.
Call: (951) 375-9599 Now!
You Are Here →Tankless Whole House Water Heater – Instantaneous Heating