Leak Detection Services Menifee | We Use State of the Art Slab Leak Detection Equipment – Thermal Imaging + Ultrasound
I.E. Plumbing Services takes pride in helping our customers with our water leak detection service. Our leak detection technicians are equipped with latest state-of-the-art thermal imaging and ultrasonic leak detector devices that locate sewer, drain and plumbing leaks in walls and/or concrete foundation slabs, all of which can result in the need for Water Damage Restoration.

Foundation and Slab Leaks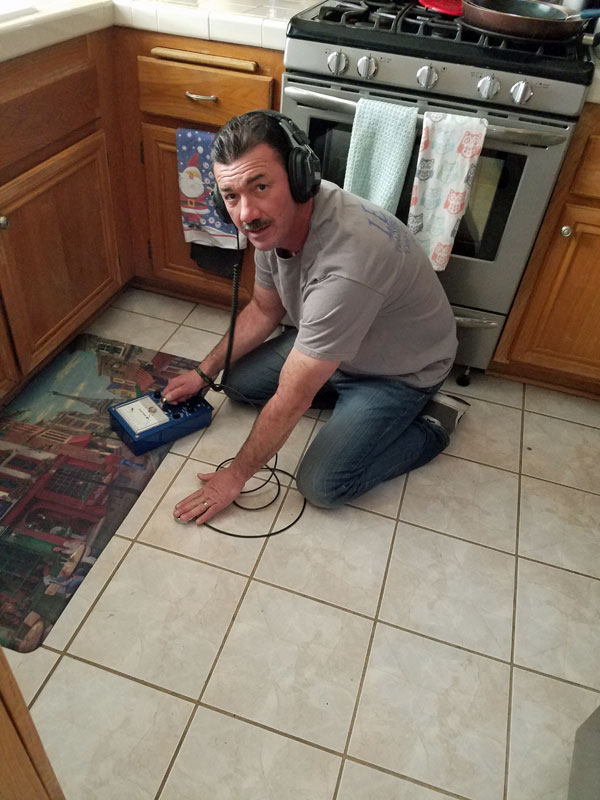 Foundation leaks occur in the concrete slab or foundation of you Menifee CA home. They can occur in the incoming water lines or the sewer line.
The incoming water line from the water main is under constant pressure and often can cause more damage when it leaks than a sewer line. Since the line is under constant pressure the leak will be constant.
All faucets, showers, and toilets use this incoming water line. A slab leak can be caused by many things including a shifting foundation, the water line is broken by tree roots, poorly formed or laid out waterlines, and erosion of older water lines.
A Foundation leak in the sewer line will only leak when that line is used. For example when flushing a toilet, or when a drain is being used such as in the shower or sinks of your home. These slab leaks can be caused by the same things as the incoming water lines and by the different things we put down the drains in our homes such as solvents and cleaners. For Sewer Drain Pipe Slab Leaks using a professional plumber with modern slab leak detection equipment is your best bet.
Foundation Leak Repair
All foundation leaks are a major problem. They can lead to a number of larger problems if they are not repaired or if they go unnoticed. Erosion of the underlying support soil, foundation movement due to uneven support soil, and removal of the support soil are three of the major problems caused by foundation leaks. These problems require major repairs that take a considerable amount of time and money. That is why a concrete foundation leak should never be ignored. For plumbing leak detection services and foundation leak repair contact us to schedule your Menifee Plumber appointment TODAY…
Call: (951) 375-9599 Now!
If you would like to read more or add a testimonial like the one below, CLICK HERE