Commercial Grade Water Heaters – Residential Prices
Our Customers Get The Best for Less, Compared to Other Water Heaters!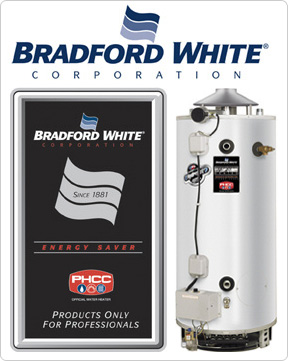 After over 20 years of working with, repairing and doing maintenance on all of the well-known water heaters available in the U.S., we have found it is absolutely to our customer's benefit to investing in a Bradford White Heater. Not just because of their superior quality but because of the price at which we are able to deliver and install a Bradford White Commercial Water Heater to our home owner customers at residential prices.
Our 20 Years Experience Says…
The number of years experience we have in comparing water heaters makes it easy for us to say that Bradford White offers the solutions to any water heating need for any application our customers may require. In a very real sense, we believe only Bradford White is the solution to our customer's water heating needs. It's simple; they are simply the best high-quality water heater available for the money; PERIOD – bar none! Does that statement sound biased?
Are we biased? You bet we are; so we provide this information to help you to make a well-informed decision regarding which water heater you should buy to get the most years of service from with the lowest operating cost and the least amount of maintenance or repair issues.
The information here in our water heater section will cover the many different types of heaters available for your home or business. The points we want to cover are the price, fuel source, quality, service life, and efficiency, regardless of whether you need an electric or gas water heater.
Going Green isn't Just about Saving the Environment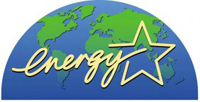 IT CAN SAVE YOU MONEY TOO! If you have been searching for the best GREEN water heater that can decrease your monthly utility bills, you may want to consider the latest technology that surpasses conventional old technology tank type water heaters.
While old technology tank type water heaters will do the job of providing you with hot water,  they have poor heat retention. Therefore they have to be reheated which costs you time and money. It's just common sense; a tank type water that loses heat quicker requires being reheated more often.
Bradford White – Pioneers in Hi-Tech Energy Efficiency and Safety
The Bradford white water heater company is the new pioneer of the high efficient tank which other companies are just now starting to really develop. They were the first ones to remove the ever troublesome ever burning pilot light. With water heaters that produce lower emissions, the Bradford White heaters have revolutionized the water heater industry. That is just one technology they have pioneered.
Here are just a few of the patented breakthrough water heater technologies from Bradford White:
The Defender Safety System® is Bradford White's Flammable Vapor Ignition Resistant technology.
Bradford White Icon System™ is their revolutionary new intelligent control technology for water heaters.
Eco-Defender Safety System® Ultra Low NOX – Eco-Defender products include a new primary air radiant burner system that greatly reduces NOx emissions.
Millivolt technology – the industry's first line of cordless, commercial gas water heaters.
PDV: Power Direct Vent – utilize an independent direct venting system that introduces air for combustion throughout one pipe while products of combustion are exhausted through a separate pipe.
Hydrojet® Total Performance System – high efficiency, high deliver-ability, highly effective self-cleaning system helps reduce sediment build-up in the water heater tank.
AND . . . to top it all off, I.E. Plumbing Services, Inc. can provide you with the best, Bradford White Water Heaters for Less than other Local Plumbing Companies. We believe we can deliver and install your water for the lowest price possible.
Give us a call today and let us prove to you we can provide the best water heater for less:
Call: (951) 375-9599 Now!
You Are Here →Commercial Grade Water Heaters at Residential Prices