Temecula's Best Leak Detection Services
For expert water leak detection in Temecula, California just give us a call.  Hidden water leaks threaten everything from minor to major water damage.  The problem could be inside a wall or a slab leak under the floor.  Even before there's visible clues you could have heavily damaged wood and drywall, serious health hazards, and even structural damage.  Or you could suddenly be facing the sights and sounds of running water but be unable to locate the source. Our Temecula leak detection services are ready 24/7 for those emergencies.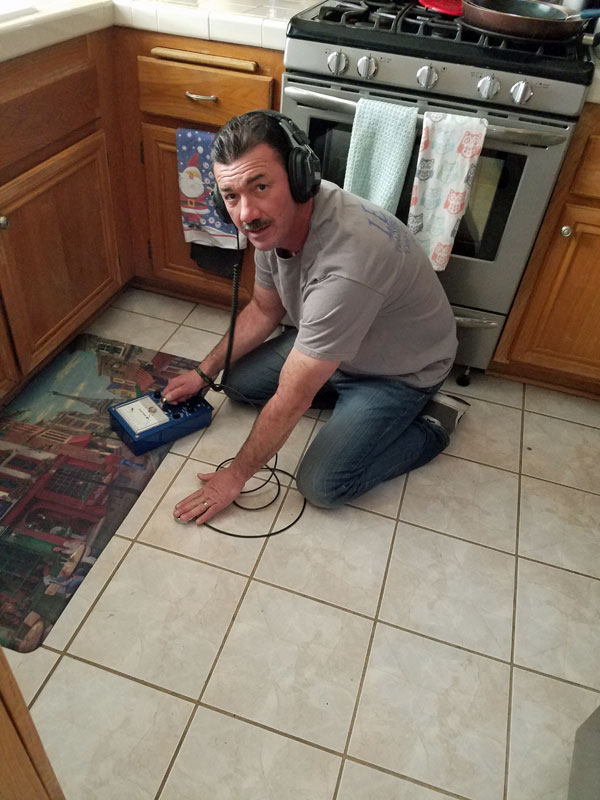 Do I Have a Leak?
Plumbing water leaks can be caused by all sorts of things — aging pipes, inferior materials or workmanship, shifting soil, and more  But sooner or later they all lead to water damage to your home or business.  Some are obvious, while with others you might not even be sure that you have a leak.  Here are some of the many signs you should keep an eye out for.
Warm, damp, or moldy areas on a wall, floor, or ceiling
Curling or bubbling vinyl flooring
Blistering paint or wallpaper
Low water pressure
The faint sounds of dripping, hissing, or running water
Water stains
But often your only clue will be a jump in your water bill.
If you suspect a leak but can't track it down, it's time to call in professional water leak detection services.  Years ago intuition and exploration were the only water leak detection methods.  That frequently lead to making several holes in the wall or an ever-widening hole in the floor before the location of the source could be found.  But non-destructive methods are available today in Temecula.
Basic Tests
There are a couple of simple tests that determine whether or not you actually need a leak repair.
The first you can do yourself.  Turnoff everything that might use water (don't forget ice makers, washing machines, dishwashers, and toilets).  Then take a water meter reading (see the link below).  Wait an hour or two, then make another reading.  If the two numbers differ, there's a leak… somewhere.
A plumber can also use a sensitive pressure meter to make a quicker yet more accurate test.
Thermal Imaging Leak Detection Camera Video
Our Temecula Leak Detection & Repair Services
Need water leak detection in Temecula?  Our plumbing services have you covered with experienced pros armed with the latest electronic leak detectors.  As a licensed full-service plumbing company we can also handle pretty much any leak repair in Temecula, from a fitting or water heater valve all the way to complete re-piping.
Temecula Slab Leak Detection & Repair
Most Temecula buildings constructed in the recent decades use several inches of concrete slab on grade as the foundation.  Often sewer, drain, and supply pipes run underneath that.  Slab leak detection through flooring and concrete is difficult, and you may not even realize you have a problem until there's a major problem.  Without showing any signs within the building, they often cause erosion that undermines the foundation, leading to uneven settling and structural damage to your home or business.
Jack hammering through the concrete for a slab leak repair is expensive and disruptive, so you'll want the job done right.  Our Temecula slab leak repair crews use only top-quality materials and deliver exceptional workmanship.  In most cases they can also offer money-saving options such as pipe lining (inserting a thin inner lining into existing pipes) and re-routing new pipe around the outside of the slab.
Call: (951) 375-9599 Now!
Electronic Leak Detection
Many Temecula plumbing services use RF (radio frequency) pipe tracing gear to at least know where the pipes are.  We take that to another level with state of the art electronic instruments.  That includes sensitive ultrasonic microphones to track down the hiss of escaping gas after we've drained and pressurized your plumbing.  We also use thermal imaging that quite literally paints a picture of the tiny temperature differences that result from leaking hot or cold water and damp building materials.
IE Plumbing Services
Why choose us?  We're the Temecula leak detection experts.
Our residential and commercial plumbing services include leak detection in Temecula along with expert leak repairs.  Our specialists are experienced in pinpointing problems in homes, apartment buildings, office buildings, and other structures.
We are, of course, properly licensed, insured, and bonded.  All work is done by our own employees — well trained courteous technicians and plumbers.  You'll receive a free written estimate, and we'll wait for your review and approval before beginning work.  We're ready 24 hours a day, 7 days a week.  And we stand behind our work with a satisfaction guarantee.
Reading Your Temecula Water Meter
A building's water meter is typically underneath a plastic or concrete cover near the curb.  There are many different types and manufacturers, but the method for reading them is largely the same.  You can find a video specific to the Rancho California Water District (they're the utility serving Temecula) at http://www.ranchowater.com/122/Your-Water-Meter.
TIP:  Once you've opened the meter cover, just take before and after photos.  If there's any change you probably have a problem.