Drain Cleaning Temecula, California
Need drain cleaning service in Temecula, California?  Call your Temecula local drain and sewer professionals today. We are ready with 24/7 emergency services. Our experts understand the peculiarities of various clogged drains including kitchen drains, bathroom drains, and laundry drains. 90% of the time cabling (snaking) or using an  auger (rooter) clears drain clogs.  For that remaining 10% we're ready with hydro jetting and sewer line repairs.  Our professionals will explain your options, including any difference between clearing the current clog and more aggressively preventing future problems.
Ask About Our Drain Cleaning Special Starting From $75
Sewer Cleaning Temecula
All drains connect to a single sewer pipe that runs to the Temecula sewage system at the street.  Besides a toilet backup, sewer line obstructions and build up can make any fixture in the building slow flowing.  Since there can be an even wider range of causes, our sewer cleaning plumbing service begins with an in-pipe video camera inspection and ultrasonic location.  In some cases that may include an end-to-end inspection for damage and other problems before and/or after cabling and augering.
Temecula Drain Cleaning Tips
First here's a few tips to keep your drain and sewer lines running freely, avoiding problems in the first place.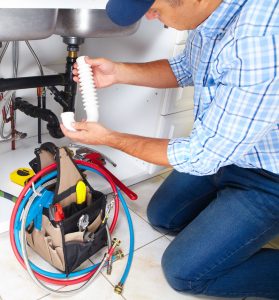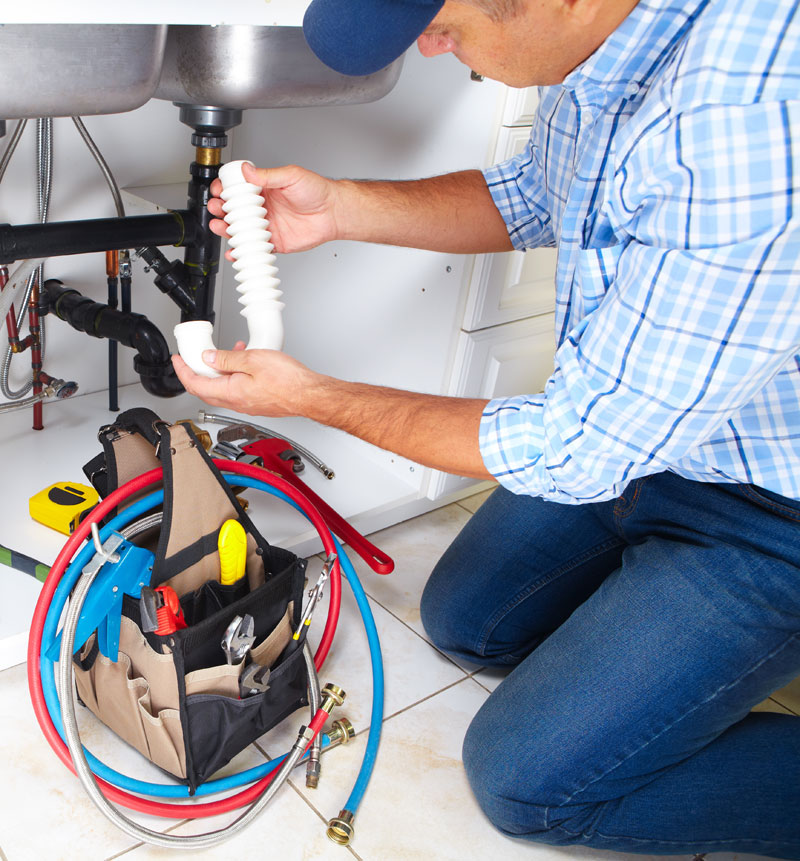 Be sure to use to use the sink strainer to keep out as much food as possible.

Put oil and grease into a container and dispose of it in the trash — never pour them into a sink or toilet.

Never flush anything other than toilet paper.  Baby wipes and other products are big problems

In many cases you can quickly and easily deal with a clogged drain, so here are a few tips to help avoid the cost of calling in a plumbing service.
If a kitchen sink is slow to drain, just run hot water for about 15 minutes.  That's sometimes enough to melt and flush away minor grease build up.

If the bath or shower is slow, that's often a clump of hair and soap scum.  After removing the drain grate you can often just pull out the clog.

For more stubborn clogs, try a plunger or liquid drain cleaner.  Be careful not to splash drain cleaners as they're essentially concentrated bleach.  Great for shower and tubs, they're usually not too effective for kitchen sinks.

As an alternative you can try vinegar and baking soda, followed by boiling water.  As a weird option, sugary soda sometimes helps.

For grease, grime, and sludge biological enzyme cleaners work slowly but are more effective.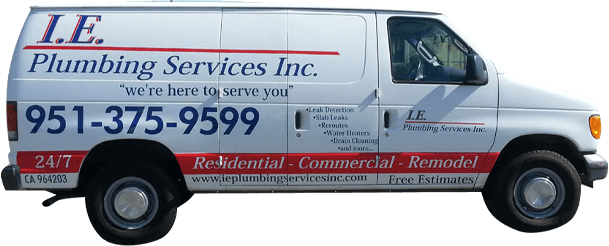 Need A Professional Drain Plumber?
Hydro Jetting
Hydro jetting is the only way to completely clean the inside of drain and sewer lines of all grease, grime, sludge, debris, sand, and dirt.  It uses jets of high-pressure water to blast through obstructions, scour pipe surfaces, and flush debris down the line.  It's now the industry standard for dealing with recurring kitchen drain problems, and especially for any commercial facility that handles food.
Our most powerful hydro jetting equipment is trailer mounted and has a 500 foot long hose, so it's ready to tackle just about any situation in Temecula.  With a special rotary head it even cuts through tree roots.
Garbage Disposals
Our plumbing and drain cleaning services include unclogging and un-jamming garbage disposals.  If necessary we can also complete repairs and replacements.
I.E. Plumbing Drain Cleaning Services
Why choose us for your Temecula drain cleaning?  A California Licensed Plumbing Contractor, we're a full-service plumbing and drain company.  Bonded and fully insured we work with homeowners, HOAs, business owners, and property managers.  When you call we'll send out the right highly trained technician, plumber, or sewer and drain specialist to get the job done economically.  They'll discuss your options and provide you with a detailed written estimate before beginning any work.  Polite and knowledgeable, you'll appreciate their thoroughness and quality workmanship.
CALL: (951) 375-9599